The Executive Committee is composed of 3-5 students who are selected early in 1st year. Executive Committee Fellows (ECFs) receive training in peer coaching and facilitation, and serve as student leaders of the program.  ECFs also serve as a visiting board member with one of our partner organizations.
Students selected as ECFs must have prior experience with nonprofit boards or extensive experience in the nonprofit sector. Using their prior board and sector experience as a springboard, Executive Committee Fellows (ECFs) engage in a 20-month peer leadership role in which they work closely with a group of fellows to support their individual development.
ECFs serve as visiting board members with one of our partner organizations, so all interested candidates should also be familiar with that role.  Additionally, as the "Fellows to the Fellows," ECFs build and maintain close relationships with their class of Board Fellows and have 3 primary responsibilities:
select their class of board fellows;
coach and support board fellows; and
build and steward board fellow community and culture.
Each ECF also acts as chair of one of the four program subcommittees (fellow selection, training, nonprofit partnerships, and community-building) with the aim of leading the improvement of the program year-to-year.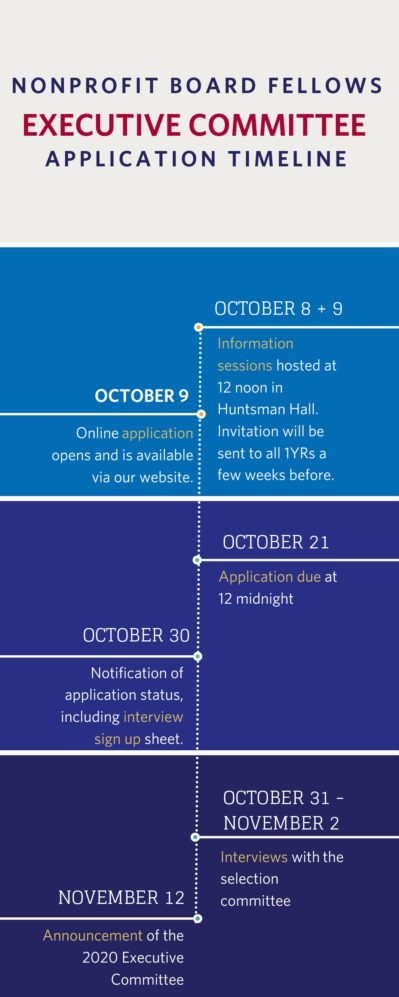 Meet the Class of 2019 Board Fellow Executive Committee
Teresa Baik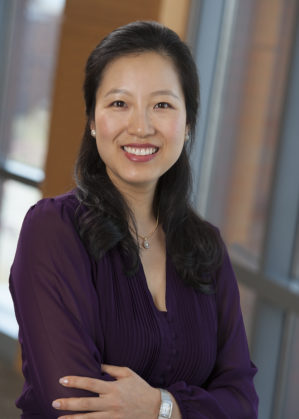 Teresa grew up outside of Los Angeles, CA. Teresa holds her Bachelor of Science from Wharton, where she majored in Finance, Management, and Legal Studies Business Ethics with a minor in Mathematics. During her undergraduate years, Teresa held various executive positions with Wharton Women, the largest paid-member undergraduate student organization at the University of Pennsylvania that facilitates the personal and career development of females in business. Teresa was also a competitive Taekwondo athlete.
Before returning to Wharton for her MBA, Teresa worked as an investment banking analyst at Barclays in New York and as a long/short equity investment analyst at Select Equity Group in New York. During her time in New York, Teresa served on the junior board of Blue Engine, an education non-profit that aims to improve classroom learning by reducing the student to teacher ratio in high schools around New York City. Teresa also served on the board of the Select Equity Group Foundation which allocated grants to support nonprofits that work toward improving the quality of life for the broader New York City community.
The Non-profit Board Fellows program and the Executive Committee at Wharton has allowed Teresa to continue to serve the local community in which she resides alongside a group of like-minded peers who share similar passions.
Tulsi Caughell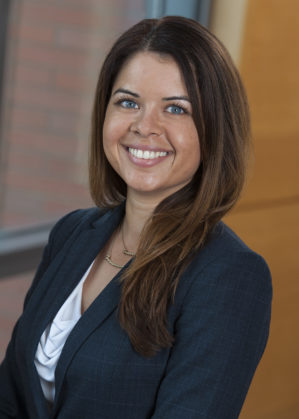 Tulsi grew up in southern California and earned her Bachelor of Arts in Economics from UCLA. While at UCLA, Tulsi began volunteering with Westside Pregnancy Clinic. WPC is committed to providing women in crisis pregnancy situations with support during pregnancy and the early stages of their child's life. Tulsi loved working with the women and children at WPC and sought out a similar organization when she moved to Philadelphia from Los Angeles in 2012. Tulsi was on the board of AlphaCare from 2012 to 2017 and served as treasurer for part of her tenure.
At Wharton, the Non-profit Board Fellows program and the Executive Committee give Tulsi an opportunity to continue to serve and learn about the greater Philadelphia community alongside her classmates.
Before returning to school, Tulsi served investment management clients at Deloitte and taught Financial Statement Analysis to undergraduates at University of California, Santa Barbara.
Aisha Price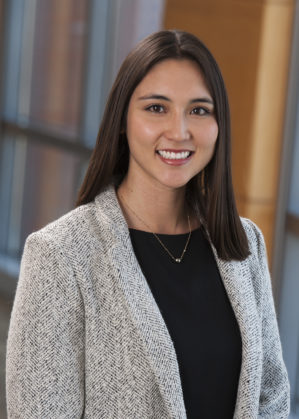 Aisha, having grown up in Hawaii's rich multi-ethnic culture, has started on a journey to better understand and bridge East and West with a spirit of Aloha. Aisha holds a Bachelor of Arts from Harvard in East Asian Studies with an emphasis on Mandarin Chinese and a secondary concentration in Social Anthropology, understanding the intersection of people and cultures. While at Harvard, Aisha was a four-year dual-sport varsity athlete playing water polo and soccer.
At Wharton, Aisha is also pursuing a MA in International Studies from the Lauder Institute. In Honolulu, Aisha supported local nonprofits, including Duke Kahanamoku Outrigger Foundation, Lawakua Charitable Fund, and Special Olympics Hawaii, in various roles including board member, volunteer, and grant writer. The Executive Committee Fellowships allows Aisha to extend her passion for supporting local communities to Philadelphia. Nonprofits provide a strong foundation for communities, capture the diversity and heart of the people, and play an essential role in supporting underprivileged demographics.
Prior to Wharton, Aisha was in management consulting at PricewaterhouseCoopers in Los Angeles and start-up consulting firm in Hawaii. Outside of nonprofit service and consulting work, Aisha continued to learn more about the Asia Pacific. She started an aloha shirt business leveraging Chinese manufacturers and was a fellow at an Asia-Pacific diplomacy think tank, Pacific Forum CSIS.
Executive Committee Commitment & Timeline
Executive Committee members (ECFs) engage in one of the longest-running student commitments at Wharton, and the intensity of the role fluctuates over the course of the 20 months.  The most time consuming period comes during the new fellow selection process in spring of the 1st year.
Additionally, during the 1st academic year (November-May) of participation, ECFs are required to:
attend weekly Executive Committee meetings with program staff
participate in role-specific training sessions
select new class of board fellows
plan events to build board fellow community
participate in planning and design of 2-day board fellows training in spring
hold 10-12 one-on-one meetings with board fellows during board matching period
During the second academic year (September-May), ECFs are required to:
serve as a visiting board member
attend weekly Executive Committee meetings with program staff
plan and facilitate monthly "pod" meetings with a group of 10-12 board fellows
chair a program subcommittee
participate in remaining training sessions, including executive team coaching
select new board fellow coordinators
consult on selection of new class of board fellows
plan events to maintain board fellow community
Training Topics
Although they also attend all of the training sessions made available to board fellows, ECFs are offered an additional training program in order to take up the role of skilled facilitator and peer coach.  Specific topics include:
individual and team-based strengths
facilitation presence
peer interviewing and selection
group facilitation strategies
group process and decision-making
The Coach Approach ™
team-based executive coaching
Program Subcommittees
Similar to many nonprofit boards, the program utilizes subcommittees to ensure that we improve the experience for fellows and partner organizations year to year.  All subcommittees are composed of board fellows.
Each ECF is responsible to chair one of these 4 standing subcommittees:
Selection (2 chairpersons)

Charter

:

to participate in selection of new class by: 1) reading & evaluating applications; 2) interviewing & evaluating candidates; 3) making selection suggestions to Executive Committee

Number of members:

12

Meetings:

November–January–February–April
Training (1 chairperson)

Charter

:

 improve board fellow trainings by: 1) analyzing training feedback; 2) surveying pods for desired changes; 3) suggesting changes to training frequency, timing, topics, & delivery

Number of members:

10

Meetings:

 May–October–January–April
Nonprofit Partnerships (1 chairperson)

Charter

:

 improve fellow board service experience by: 1) analyzing board service feedback; 2) tracking fellow successes & challenges; 3) suggesting optimal board & organization profile; 4) suggesting changes to matching process

Number of members:

10

Meetings:

 May–October–January–April
Community Building (1 chairperson)

Charter:

 build sense of community and affinity among board fellows by: 1) suggesting and planning social events; 2) creating a system to recognize fellow successes; 3) integrating fellows into Philadelphia nonprofit community

Number of members:

10

Meetings:

 March–September–February–April

The Wharton Nonprofit Board Fellows Program is generously supported by
Brandywine Global Investment Management, LLC.