Wharton's commitment to the development of global leaders extends beyond current students to Alumni and Executives.
These programs allow Wharton's alumni community to continue to hone their leadership skills and provide executives access to programs developed by Wharton's top faculty.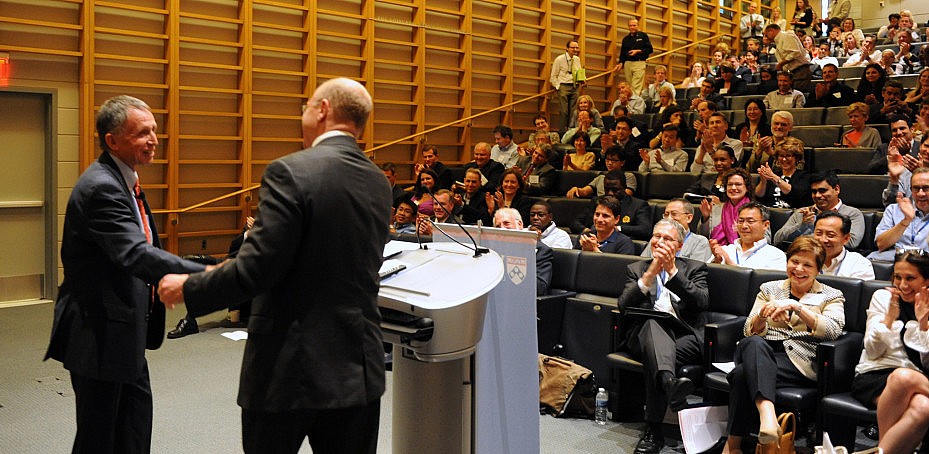 The Leadership Digest
Wharton's Leadership Center distributes an electronic bulletin – the Wharton Leadership Digest – to a roster of more than 15,000 subscribers. Delivered bi-monthly, the Digest features interviews with leaders from every industry and sector, book reviews related to leadership and change, and highlights and previews from the latest research in the field.
Conferences
Alumni and Executives are all welcome to attend the annual Wharton Leadership Conference, co-sponsored by the Wharton Leadership Center. These annual conferences feature prominent leaders from business, government, and non-profits along with Wharton faculty. The Wharton enter also co-sponsors academic research conferences, including an annual leadership research conference in collaboration with INSEAD, Wharton's partner business school in France, Duke University, and Erasmus University Rotterdam.
Executive Education
Through Wharton's Executive Education programs, Alumni and Executives are invited to enroll in 15 classes dedicated to Leadership Development. The executive leadership development programs delve into effective decision-making processes, power and influence, altering behaviors, recasting mindsets, organizational change, personal negotiation styles, and investing in and managing relationships for greater impact.
Research
The Center supports academic research on leadership and change for students, faculty, and managers. With backing from a variety of outside sources, the Center has supported research projects on topics ranging from leadership in alliance formation and national variations in governing board structures to the performance consequences of executive succession and the leadership required in outsourcing relationships.
Follow Wharton Leadership on twitter and Facebook for all of the latest news, events, and radio programming.
For news specific to Sirius, follow our new Twitter handle @BizRadio111