Intellectual Engagement By Way Of Bestselling Authors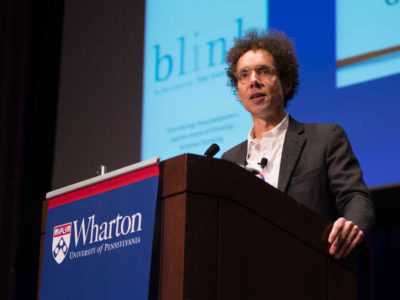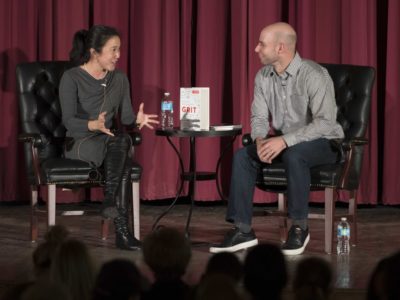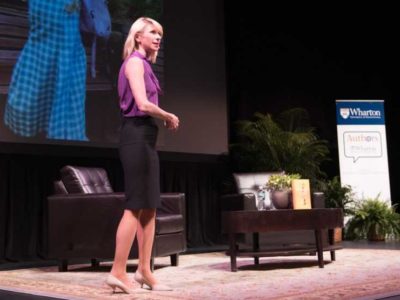 The Authors@Wharton Speaker Series seeks to enrich intellectual engagement and encourage dialogue between students, faculty, staff, and alumni outside of the classroom. Launched in 2012 by Professor Adam Grant, our events are open to all members of the Penn community at no cost.
Our world-renowned speakers have written on a variety of topics, ranging from more traditional business and management best-sellers to novels, memoirs, and current affairs. Events are typically held on Mondays or Wednesdays in the evening throughout the Fall and Spring Semesters, and a limited number of each speaker's books are distributed on a first-come basis.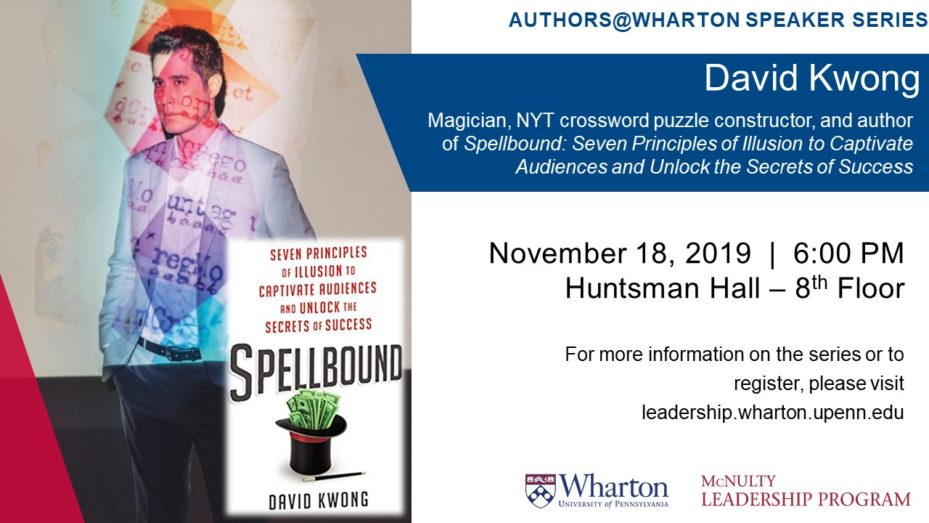 Student Committee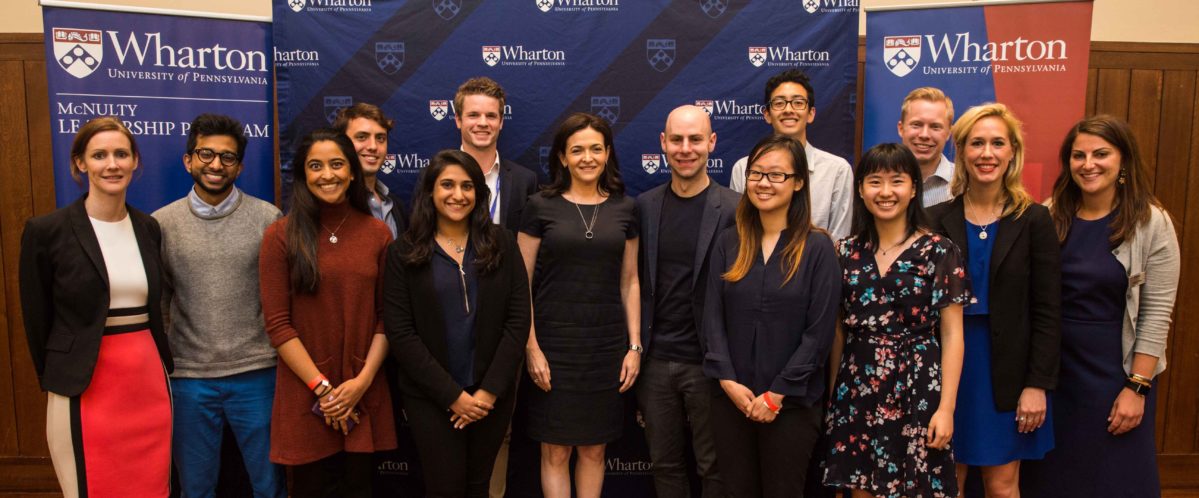 Comprised of both Wharton undergraduate and MBA students, the Authors@Wharton Student Committee provides feedback and suggestions for the speaker series. Service on the Committee is for the full academic year, with selection during the preceding Spring Semester.
HOW TO APPLY
For the 2019-20 academic year, both Undergraduate and MBA students will be eligible to apply. Interested candidates will be asked to answer a series of essay questions. Selection of the committee occurs in the Spring Semester for service during the following academic year.
Timeline for 2019-20 Student Committee
Application Open: Monday, March 25 – Friday, April 5 11:59pm *Late submissions will not be accepted.
Committee Announcement: mid-April
Application: Available via Qualtrics (application will be live on Monday, March 25)
You will be asked to upload a resume and submit your answers to the following required essay questions. You may want to compose your responses to these questions in a separate document, as the online application cannot be saved:
1. Why would you like to be part of the Authors@Wharton Student Advisory Committee? (300 words max)
2. Who would you recommend as a speaker for Authors@Wharton, and why? (300 words max)
3. In your opinion, what is the best book you have read in the last year, and why? (300 words max)
4. What was your favorite Authors@Wharton talk you attended, and why? (300 words max)
2017-18
Sir Richard Branson, Finding My Virginity
Walter Isaacson, Leonardo da Vinci
Esther Perel, The State of Affairs: Rethinking Infidelity
Scott Kelly, Endurance: A Year in Space, A Lifetime of Discovery
Satya Nadella, Hit Refresh: The Quest to Rediscover Microsoft's Soul and Imagine a Better Future for Everyone
Dan Pink, When: The Scientific Secrets of Perfect Timing
2016-17
Adam Alter, Irresistible: The Rise of Addictive Technology and the Business of Keeping Us Hooked  
Kelsey Crowe, There Is No Good Card for This: What To Say and Do When Life Is Scary, Awful, and Unfair to People You Love
Angela Duckworth, Grit: The Power of Passion and Perseverance
Tiffany Dufu, Drop the Ball
Sarah Hurwitz (speechwriter)
Michael Lewis, The Undoing Project: A Friendship That Changed Our Minds
Emily Esfahani Smith, The Power of Meaning: Crafting a Life that Matters
Sheryl Sandberg and Adam Grant, Option B: Facing Adversity, Building Resilience, and Finding Joy
Scott Sonenshein, Stretch: Unlock the Power of Less -and Achieve More Than You Ever Imagined
Tim Urban, Wait But Why (blog)
Abby Wambach, Forward: A Memoir
2015-16
Mitch Albom, The Magic Strings of Frankie Presto: A Novel
Roberto Canessa, I Had to Survive: How a Plane Crash in the Andes Inspired My Calling to Save Lives
Claire McCaskill, Plenty Ladylike: A Memoir
Mark Cuban, How to Win at the Sport of Business: If I Can Do It, You Can Do It
Amy Cuddy, Presence: Bringing Your Boldest Self to Your Biggest Challenges
Adam Grant, Originals: How Non-Conformists Move the World 
Garry Kasparov, Winter Is Coming: Why Vladimir Putin and the Enemies of the Free World Must Be Stopped
Dana Perino, And the Good News Is…: Lessons and Advice from the Bright Side 
Alec Ross, The Industries of the Future
Martine Rothblatt, Virtually Human: The Promise and the Perilof Digital Immortality
Maurice Schweitzer, Friend & Foe: When to Cooperate, When to Compete, and How to Succeed at Both
Anne-Marie Slaughter, Unfinished Business: Women Men Work Family 
Phil Tetlock, Superforecasting: The Art and Science of Prediction
2014-15
Laszlo Bock, Work Rules!: Insights from Inside Google That Will Transform How You Live and Lead
Stephen Dubner, Think Like a Freak: The Authors of Freakonomics Offer to Retrain your Brain
Malcolm Gladwell, David and Goliath: Underdogs, Misfits, and the Art of Battling Giants
Jessica Jackley, Clay, Water, Brick: Finding Inspiration from Entrepreneurs Who Do the Most with the Least
Katty Kay, The Confidence Code: The Science and Art of Self-Assurance
Nicholas Kristof, A Path Appears: Transforming Lives, Creating Opportunity
Kelly Leonard & Tom Yorton, Yes, And: How Improvisation Reverses "No, But" Thinking and Improves Creativity and Collaboration–Lessons from the Second City 
Brian Little, Me, Myself, and Us: The Science of Personality and the Art of Well-Being 
Reggie Love, Power Forward: My Presidential Education
David Pottruck, Stacking the Deck: How to Lead Breakthrough Change Against Any Odds
Gretchen Rubin, Better than Before: Mastering the Habits of Our Everyday Lives 
Eric Schmidt & Jonathan Rosenberg, How Google Works
Peter Thiel,  Zero to One: Notes on Startups or How to Build the Future
Jack & Suzy Welch, The Real-Life MBA: Your No-BS Guide to Winning the Game, Building a Team, and Growing your Career
2013-14
Dan Ariely, The Honest Truth About Dishonesty: How We Lie to Everyone–Especially Ourselves
Keith Ferrazzi, Never Eat Alone, Expanded and Updated: And Other Secrets to Success, One Relationship at a Time
Stew Friedman, Leading the Life You Want: Skills for Integrating Work and Life
Malcolm Gladwell, David and Goliath: Underdogs, Misfits, and the Art of Battling Giants
Arianna Huffington, Thrive: The Third Metric to Redefining Success and Creating a Life of Well-Being, Wisdom, and Wonder
AJ Jacobs, My Life as an Experiment: One Man's Humble Quest to Improve Himself by Living as a Woman, Becoming George Washington, Telling No Lies, and Other Radical Tests
Pete McGraw, The Humor Code: A Global Search for What Makes Things Funny 
Richard Shell, Springboard: Launching Your Personal Search for Success
2012-13
Jonah Berger, Contagious:Why Things Catch On
Lisa Bodell, Kill the Company: End the Status Quo, Start an Innovation Revolution
Adam Bryant, The Corner Office: Indispensable and Unexpected Lessons from CEOs on How to Lead and Succeed
Adam Grant, Give and Take: Why Helping Others Drives Our Success
Jonathan Haidt, The Righteous Mind: Why Good People Are Divided by Politics and Religion
Dan Pink, To Sell Is Human: The Surprising Truth About Moving Others
Gretchen Rubin, The Happiness Project: Or, Why I Spent a Year Trying to Sing in the Morning, Clean My Closets, Fight Right, Read Aristotle, and Generally Have More Fun
Barry Schwartz, The Paradox of Choice: Why More Is Less, Revised Edition
Anne-Marie Slaughter, Why Women Still Can't Have It All (The Atlantic article)