Speakers and Events
The McNulty Leadership Program provides many opportunities for students to learn from industry professionals, scholars and leaders.
Doug Pederson on March 21, 2019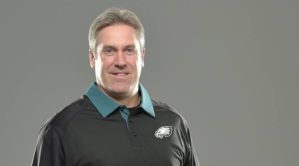 Doug Pederson
Valerie Jarrett on April 3, 2019

"The ultimate Obama insider" (New York Times), Valerie Jarrett was the longest-serving advisor in the 44th President's administration. Born in Iran and raised in 1960s Chicago, Jarrett originally practiced corporate law and left to enter local politics, where in 1991 she interviewed an up-and-coming lawyer named Michelle Robinson. And the rest is history, one she tells in Finding My Voice: My Journey to the West Wing and the Path Forward.
Authors@Wharton Speaker Series
Best-selling authors on campus to discuss their work
Wharton Leadership Lectures
Lecture series featuring C-suite executives and leaders from various industries
Wharton Leadership Conference
An annual one-day conference featuring prominent leaders from all industries.
Leadership in Action
A live weekly broadcast bringing leaders into Wharton's Sirius XM studio
Questions? Contact Us.
Kate FitzGerald, Marketing and Communications Director