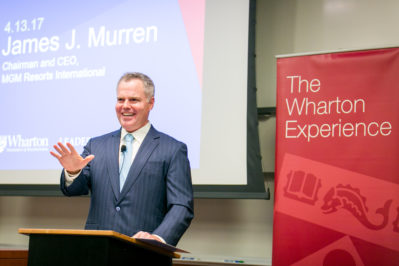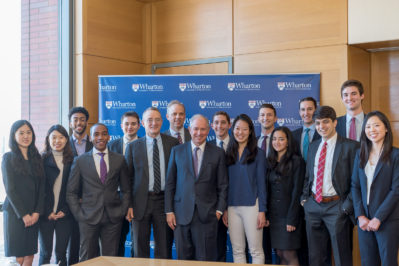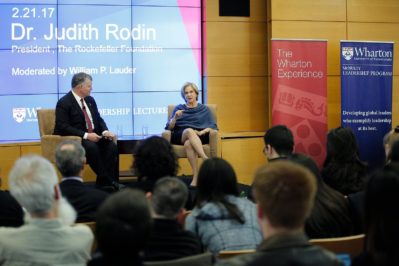 The Wharton Leadership Lecture Series seeks to provide a forum for the most senior executives from the public and private sectors to address pertinent leadership issues and share their insights with the Wharton community. Our events are open to all Wharton students, faculty and staff at no cost.
Our lectures have featured many of the world's most influential leaders and policy-makers. Topics range from telling the story of a speaker's path to leadership, industry-specific leadership examples or discussions of the various challenges that CEOs face on the job. Events are typically held on Tuesdays in the late afternoon during the academic year.
Thank you for your interest, there are no public events currently scheduled.
2019-2020
Lloyd Howell, Jr., ENG;88, Chief Financial Officer, Booz Allen Hamilton
Jeb Bush, 43rd governor of the State of Florida
2018-2019
Beth Comstock Former Vice Chair and CMO, GE
Marc Lore Chairman CEO, Walmart eCommerce U.S.
Amity Millhiser, Chief Clients Officer, PwC US
2017-18
Victor Luis CEO, Coach, Inc.
Stuart Weitzman, W'63 Founder and Chairman Emeritus, Stuart Weitzman, LLC
Peter Liguori, Former President and CEO, Tribune Media Company
Rob Katz, Chairman and Chief Executive Officer, Vail Resorts
John Sculley, Chairman, RxAdvance; Former CEO, Apple
2016-17
Doug Braunstein Founder & Managing Partner, Hudson Executive Capital LP
Carlos Brito CEO, AB Inbev
Rich Lesser CEO, BCG
James J. Murren Chairman and CEO, MGM Resorts International
Rich Riley CEO, Shazam
Dr. Judith Rodin President, The Rockefeller Foundation; President Emerita, University of Pennsylvania
2015-16
Jim Gibbons President and CEO, Goodwill Industries International
Jamie Moldafsky Chief Marketing Officer, Wells Fargo
Carol Sawdye Vice Chairman and Chief Financial Officer, PWC
Evan Siddall President and CEO, Canada Mortgage & Housing Corporation
Robert K. Steel CEO, Perella Weinberg Partners
2014-15
Dominic Barton Managing Director, McKinsey & Co.
Cesar Conde, WG'99 EVP, NBCUniversal
Mark Pincus Co-Founder, Zynga
Chris Tsakalakis, W'89 President, StubHub and GM, eBay Tickets
Sharen Turney President and CEO, Victoria's Secret
Geoff Walker EVP, Mattel and Global Head of Fisher-Price
2013-14
Sandy Alderson GM, NY Mets
Carlos Brito CEO, Anheuser-Busch InBev
Kenneth Chenault Chairman and CEO, American Express
Alan Ennis President and CEO, Revlon
Gary Gensler Chairman U.S Commodity Futures Trading Commission
Gary Loveman Chairman, President and CEO, Caesars Entertainment Group
2012-13
Ambassador Nancy G. Brinker Founder, Susan G. Komen for the Cure
Beth Comstock CMO and SVP, GE
Roger Crandall, WG '02 Chairman, President, and CEO, Mass Mutual
Julius Genachowski Chairman, Federal Communications Commission
Mark Hoplamazian President and CEO, Hyatt Hotels Corporation
Benjamin Jealous President, NAACP
Kirk Kinsell President, The Americas, InterContinental Hotels Group, PLC
Paul Orfalea Founder, Kinkos
Joseph R. Perella and Peter A. Weinberg Founders and Partners, Perella Weinberg Partners
Punit Renjen Chairman of the Board, Deloitte LLP
Mark Shapiro President, Cleveland Indians
2011-12
Preet Bharara U.S. Attorney, Southern District of NY
Brian Cornell President and CEO, Sam's Club
Joe DePinto President and CEO, 7-Eleven
James Gorman Chairman and CEO, Morgan Stanley
Ken Hicks President and CEO, Foot Locker
Kees Kruythoff President, Unilever North America
Bill McDermott and Mike Tannenbaum Co-CEO, SAP and EVP and GM, NY Jets
Chris McWilton President, U.S. Markets, Mastercard
M. Night Shyamalan Actor, Director, Writer and Producer
2010-11
Michael Ahn President and CEO, LG Electronics North America
Willliam Lauder Executive Chairman, Estee Lauder
Harold "Terry" McGraw III Chairman, President and CEO, The McGraw-Hill Companies
Bill McNabb CEO, Vanguard
Kevin Plank President and CEO, Under Armour
Barry Salzberg CEO, Deloitte, LLP
Arturo Sarukhan Ambassador from Mexico to the United States
Glen Senk CEO, Urban Outfitters
President Alvaro Uribe Former President of Colombia
Robert Wolf Chairman and CEO, UBS Group Americas
Jeff Zucker President and CEO, NBC Universal