From Conflict to Collaboration
From Conflict to Collaboration: An Introduction to the Common Ground Approach
Our world is more interdependent than ever before. Conflict is all around us – at home, in the workplace, in our communities. But does conflict always lead to violence? And as we drive forward change in our businesses and organizations, are we equipped as leaders to transform conflict?
This experiential workshop offers participants an introduction to the Common Ground Approach, a conflict transformation method developed by the international peacebuilding organization Search for Common Ground. Through practical exercises, we'll learn how detect the underlying dynamics behind the visible and often violent manifestation of conflict we see in our world today. Through practice and reflection, we will learn how to reveal Common Ground, and harness it to transform conflict and drive change.
This training is widely applicable. Whether someone is facing conflict in the home, the office, in the community, or across nation-states, the core concepts in these modules resonate. The Common Ground Approach can be used to transform violent conflict, but also catalyze collaborative approaches to social change more broadly, enabling win-win outcomes where all parties involved defend the outcome.
Be it driving forward change at a community level or catalyzing organization-wide change, the skills to turn conflict into collaboration is an imperative for leaders of today and tomorrow.
Learning objectives:
Understanding the intersection between identity and conflict
Unpacking the ingredients needed to build trust
Detecting the invisible dynamics of conflict
Understanding how to reveal Common Ground and utilize it to catalyze collaboration
The Common Ground Approach is derived from the core insights of Search for Common Ground's work transforming conflict around the world since 1982.
Date: Monday, February 25, 2019
Times: 4:30pm – 8:30pm
Location: Vance Hall (exact room # TBA)
Faciltator: Lena Slachmuijlder
Applications to attend "From Conflict to Collaboration" will be reviewed on a rolling basis. If the Workshop is oversubscribed, preference may be given to second-year students and to those who have not yet participated in a Workshop. If you were selected for but cannot attend this Workshop, please email Michael Pratt as soon as you can. Failure to notify us of your absence 4 days in advance may result in a ban from future McNulty Leadership programs.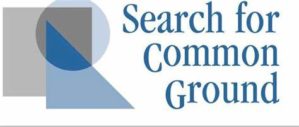 Lena Slachmuijlder, Vice President of Programs
Lena Slachmuijlder brings 25 years of experience working for peace and social change in Africa, Asia and the Middle East. Before joining the Washington, DC headquarters, she lived and worked in Africa for 21 years as a journalist, editor, human rights defender, director, producer, performing artist, cultural facilitator, trainer, and project manager. Lena graduated from Stanford University before heading to South Africa in 1990 and working as a journalist and human rights defender during the transition to democracy. She joined Search for Common Ground in Burundi in 2001, heading the 'Studio Ijambo' radio production studio, while supporting regional media efforts. In 2005, she was appointed Country Director in DR Congo, growing it to become Search's largest program, with seven offices around the country working on repatriation, sexual violence, governance, elections, security sector reform, and regional cohesion. In the DRC, Lena pioneered tools such as participatory theatre, a reality TV show, and innovative approaches to army and police reform. She has trained journalists, artists and peace builders on all continents, has published numerous articles, and wrote and produced a documentary film about Burundi's 'Heroes.' She now oversees all of Search's Regional Directors and supports our programs across Asia, Africa and the Middle East. Lena is fluent in English, French, and Zulu and has working knowledge of Swahili, Lingala, and Kirundi.