EXPEDITION
Tall Ships Sailing
This sailing expedition is one of those rare opportunities you can only get at Wharton.
Continuous Navigation & Oceanographic Exploration
As a crew member aboard the famed Robert C. Seamans marine vessel, a 134-foot-long brigantine, you will build skills in teamwork, decision-making, adaptability and leadership through your work with one of the pre-eminent ocean-based educational organizations in the world, Sea Education Association (SEA). This program is a continuous sailing expedition in the Caribbean Sea & Atlantic Ocean that draws on participants' endurance — mental and physical — and teamwork skills to achieve the team's goals in the face of challenging, often unfamiliar obstacles and natural elements.
Activities & Risks
Participants will manage and operate the 161-foot ship over a continuous 8-day period, day and night, in deep ocean waters including navigation, sail handling and on-board oceanographic research.  Risks include motion/sea sickness, sunburn, heatstroke, dehydration, hypothermia from high winds and overnight watches, and multi-day exposure.
Training
Participants need a moderate level of training and conditioning for this venture.  The program includes continuous sailing and management of the ship, alternated with on-board marine life collection and research.  Participants must thus be in reasonable physical shape to fully appreciate the program.  However, the breadth of activities and their design will make it possible for everyone, regardless of physical shape, to participate in some way.  The program does not require any previous experience in sailing.
Costs & Equipment
Participant fee covers all land and sea costs including transportation, professional fees, meals, on-site cooking team, guides, sleeping accommodations, radios, GPS, maps, sailing equipment, airport transportation, meals, and all technical workshops.  The fees do not cover airfare to the point of departure, personal clothing and equipment.
partner organization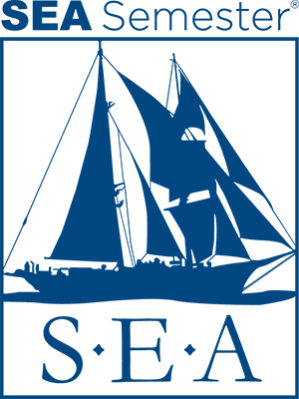 Sea Education Association (SEA) is an internationally recognized pioneer in ocean education. Founded in 1971, it offers undergraduate, high school, and collaborative programs, and is home to the leading undergraduate study-abroad program focused on the ocean, SEA Semester. SEA is based on Cape Cod in the oceanographic research community of Woods Hole, Massachusetts and owns two tall-ship ocean research vessels: the SSV Corwith Cramer, operating in the Atlantic Ocean, and the SSV Robert C. Seamans, operating in the Pacific. In 2016, SEA was honored with the National Science Board's Public Service Award for its role in promoting the public understanding of science and engineering. In 2018, the National Maritime Historical Society presented Sea Education Association with the Walter Cronkite Award for Excellence in Maritime Education.
Snapshot
Participant fee: $4,300 (land cost)
Dates: Winter Break
Number of seats per venture: 21
Location: St. Croix, USVI
Tall Ships Sailing
Students describe what they learned on the Tall Ships Sailing expedition – one of the Wharton Leadership Ventures that takes place in the Southern Pacific Ocean.