Fellows are open to and invested in learning, and are committed to serving others and the community.
Leadership Fellows coach and mentor three to four Learning Teams and their individual members while creating opportunities for personal and team development. They guide first years along their leadership development paths, enabling them to build self-awareness and to aid them in utilizing resources effectively to develop themselves.

Program Intensive Leadership Training
Leadership Fellows receive a set of world-class training experiences that provide greater awareness of, and exposure to, the leadership skills. They develop interpersonal relationship management skills and increase self-awareness.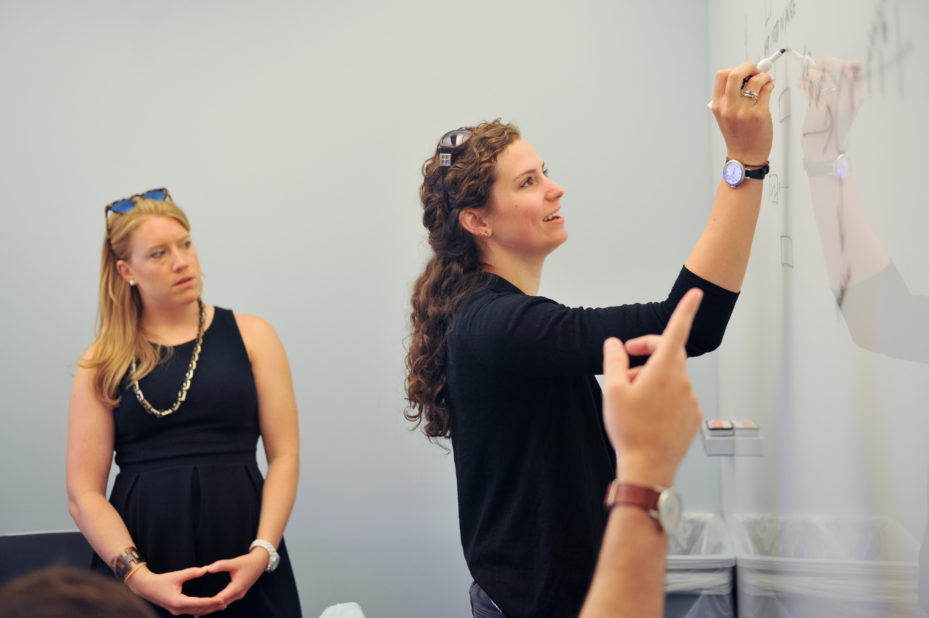 Competencies Developed
---
Influence Techniques
Peer Coaching Skills
Emotional Intelligence
Team Development Facilitation
Team Process Consultation Skills
Facilitation
Difficult Conversations
Leadership Fellow Commitments
The Leadership Fellow program is an intensive 15-month leadership development and coaching role with specific time commitments. They support the Learning Team formation process through facilitation of the Learning Team Retreat, the Big Idea, and 360 feedback sessions. They also serve as TAs during MGMT 610 under direct guidance of the MGMT 610 faculty.
SPRING 2017
Attend required Spring Training (6 Fridays and 1 Saturday).
February 24 & 25
March 17, 24 & 31
April 7 & 14
SUMMER 2017
Remain in Contact and Communication with the Program
Return in early August for Pre-Term Faciliation Training
Support the Delivery of the Learning Team Retreat and Big Idea
Serve as Teaching Assistants during MGMT 610
Conduct One-on-One Coaching Sessions with First Years
Define Leadership Fellow Community Vision and Values
Form Triads/Quads and First Year Cohort Assignments
FALL 2017
Conduct One-on-One Coaching Sessions with First Years
Consult with Learning Teams
Conduct MGMT610 Debrief Meetings with Learning Teams
Facilitate Learning Team 360 Process and Feedback Sessions
Attend Bi-weekly Morning Meetings
Participate in Leadership Fellow Community Events
Organize and Attend Cohort-level Events
Support Leadership Fellow Recruiting and Selection
SPRING 2018
Conduct One-on-One Coaching Sessions with First Years
Support First Years through Leadership Development
Organize and Attend Cohort-level Events
Support Leadership Fellow Selection
Coach and Mentor Newly Selected Leadership Fellow Class
Attend Bi-weekly Morning Meetings
Participate in Leadership Fellow Community Events
Serve as Team Process Consultants for Club Leadership Teams
Contact
Amanda Zimmerman
Associate Director