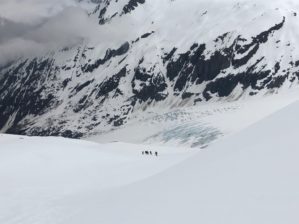 Written by Vidya Murthy, WG'18
For the two years I was in the Wharton Executive MBA (WEMBA) program, I had been managing a full-time job, full-time school, and attempting a semblance of a social life. In these two years, my classmates and I were away from family, friends and the workplace for more than 100 days.  Therefore, when the opportunity to trek across a glacier for a week was offered, it  felt like yet another trade-off in time and I was unsure on whether to partake.
Wharton Leadership Ventures, in partnership with NOLS Alaska, takes a group of WEMBA students on a mountaineering expedition in the Alaskan Kenai Fjords.  Our group hiked up onto Exit Glacier and traveled over the Harding Icefield for 6 days. Presented as an opportunity to lead during times of uncertainty, this program promised to exercise physical, emotional and mental fortitude.
Ultimately the chance to 'test' myself and whether I had achieved more than a superficial understanding of leadership over the past two years led me to partake.  As the course began, classmates self-assigned leaders of the day, taking turns making operational decisions then as a collective reflecting on leadership, intentionality, communication styles and the influence of unconscious bias. And I had to do all this while carrying a pack weighing nearly 45% of my body weight!

Once we were on the glacier, attached by ropes and progressing across seemingly insurmountable terrain, I realized the gift of this venture– time to disconnect, mental space to focus and circumstances to reflect.
Unknowns
As the sole San Francisco WEMBA, I was concerned with being the 'new person' to the all Philly group. Finding time to exercise felt like an accomplishment, but what if I didn't connect with others?  How would I understand dynamics, motivations and stresses? Layering in that there was no trail after day 1, navigating terrain, unfamiliar equipment and tactical decisions outside my core competency, the unknowns were piling up faster than I could journal!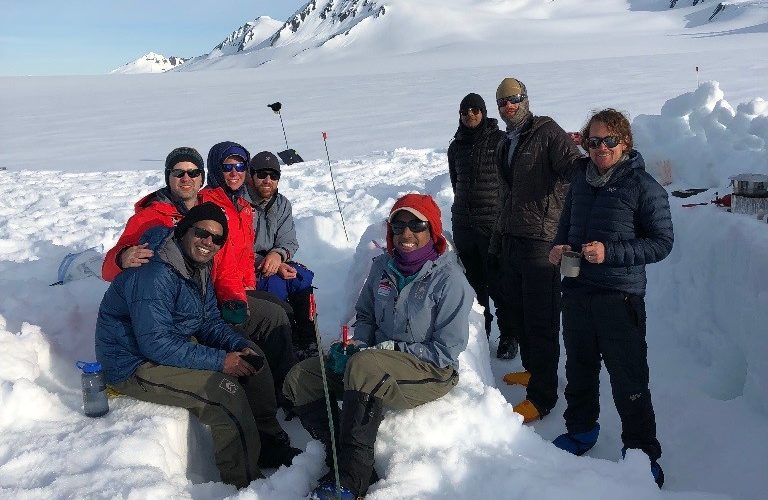 So, Day 1, hour 6 together, I volunteered to be co-leader of the day, embracing the opportunity to be vulnerable with my team and share my uncertainties.  The team was generous to share their motivations and we quickly connected on objectives and intentions. Learning to accept logistical unknowns but aligning on operating conditions proved the value of establishing team objectives even in times of uncertainty.
Unclear
I was co-leader again on day 5, when our objective was to leave the glacier and camp at the meadow.  At the consensus of the team, path A was selected which included uncertainties, contrasted against path B which included known undesirable steep terrain. After slathering on ample sunscreen, including up the nostrils, the exploratory jaunts of path A were proving unfruitful. We decided to pursue joining path B which meant trail blazing up a cliff by co-lead of the day, who was walking with a bone bruise.
As she worked through physical pain, other team members faced their fears of heights, and still others muscled the pain of an overweight pack, it left me wondering what leadership meant that day. It hadn't been logistics support, but instead, every team member managing through something they had no wanted to face in the name of enabling the team to progress.
Lessons Learned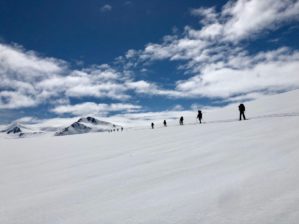 I've always thought being kind and direct were mutually exclusive, therefore I'd describe my leadership style as consensus centric and focused on positive rapport. As part of an after-action review session when unconscious biases were discussed, it was pointed out that my style of being direct was refreshing.  I was direct? And I had no idea? Two years of education hadn't taught me that, but being physically, emotionally and mentally stressed had made it clear.
It was also revealed that as a direct communicator I can have a bias to appeal to logos without sufficiently engaging ethos and pathos.  Identifying and meeting the needs of team members was critical and the absence of engagement on all three vectors meant a lack of trust between team members – an area that had broken down for me and brought to light the importance of consciously attending to.
Life lesson 1: Smell liquids before you drink them. When faced with an unknown circumstance, take an extra moment and be present to read what a situation is signaling. Whether its propane vs. water, a foot print vs. a bear paw or the reluctance of team member, take in all the data.
Life lesson 2: The success of the last person is the success of the collective. Accomplishing an objective as a group is so much sweeter together and makes the celebration more meaningful.
I Am Where I Need to Be
Had I not chosen to leap and take this venture, I may not have been reminded so poignantly that we are all constantly changing, like crevasses buried under snow, and there is beauty in both the big picture and the details.  And that I am supported by my community, my mind and my body and they will all take care of me in my journey, if I choose to listen.
I'm so thankful for the way the mountains showed me my own inability to control the world. The seemingly never-ending icefield winding across the landscape and over mountains offers limitless lessons to teach. Even though our group was prepared, we had no control of physical well-being, the route that would lead to success and the challenges every individual was facing.  In daily life, this reality of unexpected circumstances means as leaders we need to be ready to face them with courage. And that courage in facing and taking the harder path, will be ultimately be rewarded with a sweeter success.