Wharton Leadership Programs and the Management Department offer the core leadership class for undergraduates and MBAs, teaching leadership in the context of a team.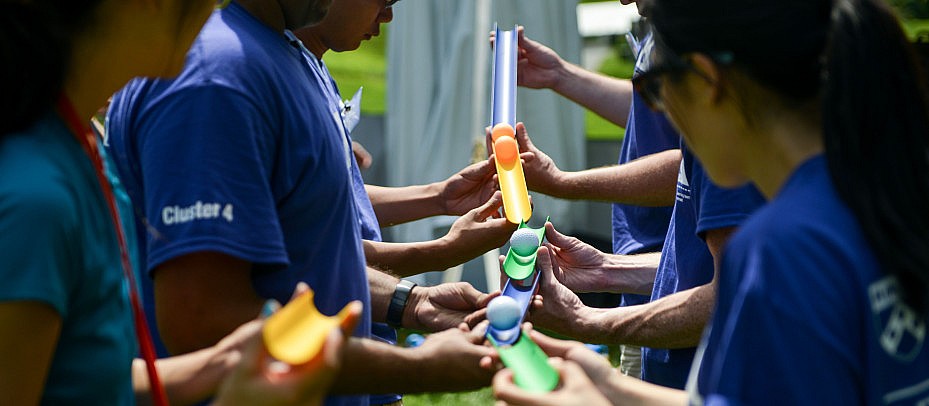 MGMT 100: Leadership and Communication in Groups
MGMT 100 is an innovative learning experience and is a core (required) course for all Wharton undergraduate students. The course is designed to increase understanding of leadership and communication in teams and to help build skills that are necessary for professional success. Students study literature on leadership, management communication, and group dynamics and also complete a field project, an integral part of the course. The field project provides the context for leadership development, communication skills, and the opportunity to learn about the nature of group work, and enhances sensitivity to community issues. In Management 100 students are provided with many opportunities for interaction with peers, advanced, students, alumni, faculty, and the community. Students in Management 100 are coached by Team Advisors who are upperclassmen in the Wharton Program.
MGMT 610: Foundations of Teamwork and Leadership
Management 610 is a core course in the MBA Program and it cannot be waived. The first week of the fall term is dedicated to this formative and foundational experience. This course focuses on developing students' knowledge and skill set for teamwork and leadership. It is meant to be an intense immersion experience that draws strongly on the pedagogy of theWharton Teamwork and Leadership Simulation, a team-based, highly interactive simulation that was custom-designed specifically to allow students to experience the core concepts they will learn in this class. The simulation is based on both cutting-edge research evidence and specific business cases. In addition, the course will include debriefings, lectures, readings, class discussion and personal and group performance feedback. This course reflects the realities that informal leadership occurs in teams on an ongoing basis, that being a good team player is a part of leadership, and that many of one's early experiences with leadership will occur while working in teams.
The three goals of this course are for students to learn about:
Leadership behaviors: how to enact the skills that contribute to a team's effective performance
Team dynamics: how to be an effective team member, as well as how to best design work teams
Organizational awareness: understanding organizational change and culture